"LUCKY PEACH" FOOD JOURNAL HIGHLIGHTS JOYCE CHEN'S PEKING RAVIOLI
Wednesday, February 25, 2015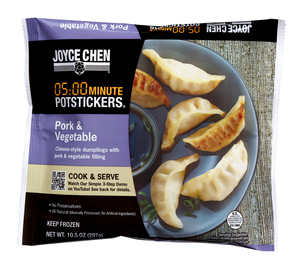 In case you haven't heard of Lucky Peach, here's the scoop. It's a quarterly food journal that was founded by New York's Momofuku chef David Chang (who was honored with a James Beard Award), Peter Meehan, cowriter of the Momofuku cookbook, and the producers of the CNN show, Anthony Bourdain: No Reservations. It's website describes it as, "... a melange of travelogue, essays, art, photography, and rants in a full-color, meticulously designed format." Also, "Each issue will focus on a theme..."

The theme for the February 25, 2015 issue is the DUMPLING!! There are articles on what goes inside the dumpling and what's on the outside. There's history, recipes, an extensive guide to dumplings and almost dumplings, and critiques of a few of dumpling wrapping instructional videos. And, of course, there's an article about Joyce Chen and her Peking ravioli.

According to Leah Mennies, who wrote "The Story of the Peking Dumpling,"

"To delve into (the name Peking Ravioli), though, is to get a glimpse of Boston's culinary past. And as with much of the Chinese food in the area—from moo shu and Peking duck to scallion pancakes and the all-you-can-eat buffet—it all starts with Joyce Chen and her seminal Mandarin restaurant, Joyce Chen Restaurant, which she opened in Cambridge in 1958."

By interviewing Merry White, anthropology professor at Boston University, Mennies learned that in the 1960s when Joyce Chen popularized the phrase Peking ravioli, the term ravioli was better known by the Italian community in Boston than the general population. Also, the ravioli was building in popularity then. Chen succeeded in coining a lasting name for the dumpling (or potsticker) that expressed that the dumpling was a filled pouch, and that honored Beijing, her place of birth.

Today, Joyce Chen Foods offers several types of frozen potstickers based on Joyce Chen's original recipes. Try our delicious 5-Minute potstickers (microwaveable) in chicken and vegetable, vegetable, and pork and vegetable, or our thicker skin home-style potstickers in chicken and vegetable, and pork and vegetable.

Joyce Chen Foods frozen potstickers are available at Wegman's and Market Basket stores, among others.