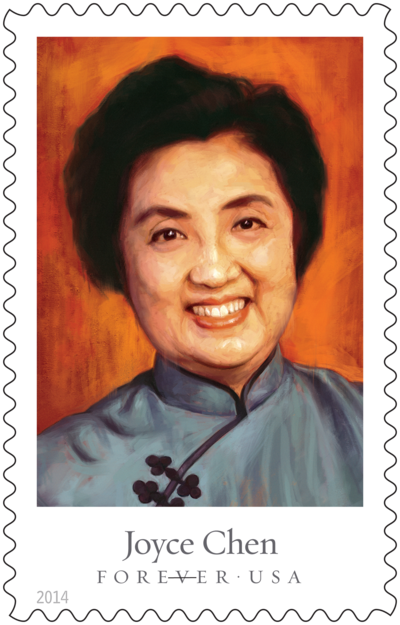 CHEF. RESTAURATEUR. ENTREPRENEUR.
by Stephen Chen, president of Joyce Chen Foods
It is with immense pride that I share with you the news that Postal Service has honored the legacy of my mother, Joyce Chen, by including her in its Celebrity Chef Forever stamp series. Released on September 26, 2014, this series commemorates five chefs who revolutionized cuisine in the United States — Joyce Chen, Julia Child, James Beard, Edna Lewis, and Felipe Rojas-Lombari.
According to the USPS, "Joyce Chen is one of America's greatest popularizers of Chinese food. From her landmark restaurant in the Boston area to her cookbooks and trailblazing PBS television show, Chen invited newcomers to sample unfamiliar dishes in ways that firmly established Chinese cuisine in the United States."

The stamps were unveiled at an event in Chicago on September 26, 2014. Cambridge MA's mayor David Maher, and postmaster Katherine Lydon held another reception to honor Cantabrigians* Joyce Chen and Julia Child on October 29, 2014.

I am thankful to the New-York Historical Society, which has included my mother in its exhibit (September 26, 2014 to April 19, 2015), "Chinese Americans: Exclusion/Inclusion."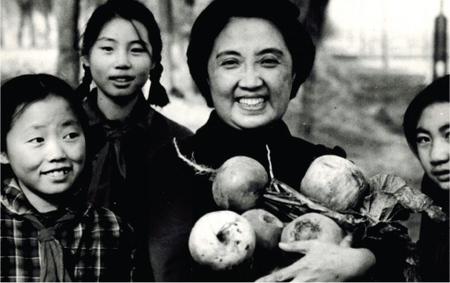 Her Story
Born in Beijing in 1917, my mother Joyce Chen came to this country with my dad, sister and brother in 1949. We moved to Cambridge MA, where friends of the family had settled, and where I was born.
Surrounded by Chinese students at Harvard and MIT, my mother's Chinese cooking was in great demand in the 1950s. Within a few years, that demand spread when my mother's eggrolls were a big hit at a function at the Buckingham School in 1957, where my brother, sister, and I were students.
Inspired by feedback at the Buckingham School, my mother embarked on cooking classes, an innovative cookbook, PBS television show, and her four eponymous Chinese restaurants* in Cambridge that we operated for forty years, beginning in 1958. Through her restaurants, she developed relationships with many well-known people, including Julia and Paul Child, Henry Kissinger, Danny Kaye, Beverly Sills.
My mother was a pioneer in promoting healthy Chinese cooking. Although it was standard practice in the 1960s, she refused to use Red Dye #2 or any other food coloring in any of her restaurant dishes.

The Joyce Chen restaurants were among the first to cook with the healthier Canola oil. Menu items for what my mothers called "fussy eaters" were low in fat, cholesterol, and lower in sodium.

My mother's classic cookbook, "Joyce Chen Cook Book," published in 1962, included recipes for foods around China, and a forward by Paul Dudley White, M.D. Dr. White was President Eisenhower's heart surgeon and a strong proponent of healthy lower fat dishes with more vegetable than the norm at the time.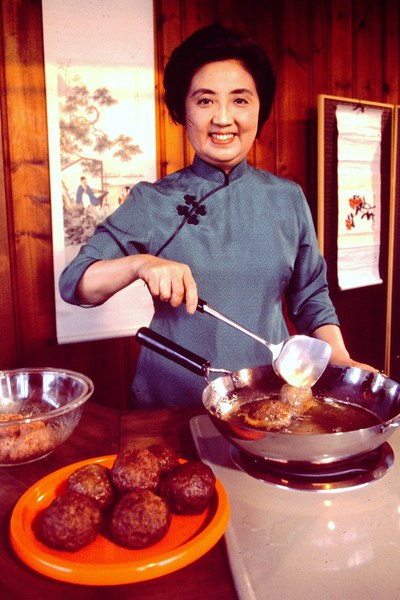 My mother, who died in 1994, is well known for her accomplishments as a chef, restaurant owner, businesswoman, and patenting and marketing the flat bottom wok with a handle. It's my pleasure to share with you highlights of my mother's remarkable career. She is credited with:
Popularizing Chinese authentic cuisine, including Peking Duck, Moo Shi Pork, Scallion Pancake, and Hot and Sour Soup
In 1958, introducing Chinese Dumplings at her first restaurant, the "Joyce Chen Restaurant"
Coining the term Peking Raviolis or Ravs for potstickers in the Boston area (The term is now used around the globe.)
Introducing authentic Chinese dishes by incorporating them into a restaurant buffet, which she initiated to increase business on slow week nights. Some of the changing dishes in the buffet were not offered in her regular menus.
Simplifying communication between Chinese and non-Chinese restaurant workers by numbering menu items
Offering only one menu with both English and Chinese; one for Chinese customer's, and one for American's with "Americanized versions of the Chinese cuisine," according to her daughter, Helen Chen
Serving the first and now popular "Soup Dumplings" (Shao Long Bao) and other northern dim sum items in her restaurant, "The Joyce Chen Small Eating Place" 1968.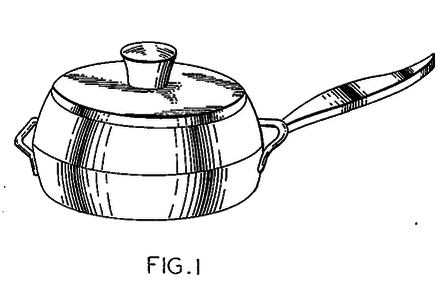 Introducing polyethylene-cutting boards made by Sumitomo Bakelite to the U.S., which she discovered while eating sushi at a restaurant in Japan
Patenting and marketing the flat bottom wok with a handle to the U.S. market in 1970, which she called the Peking Wok.
Selling the Joyce Chen wok along with higher quality Chinese cooking utensils to U.S. home cooks, who at the time had little exposure to these items, and no opportunity to obtain them
Pioneering the sale of bottled Chinese sauces, which she first sold to supermarkets 1984
Forever changing the landscape of Cambridge MA's Central Square, which is now populated by numerous ethnic and unique restaurants. In 1967, when she opened "Joyce Chen Small Eating Place" at 302 Massachusetts Avenue, the area was filled with retail and industrial businesses, iincluding the NECCO (New England Confectionary Company) factory.
Teaching popular cooking lessons in the early 1960s at the Cambridge Adult Education Center on Brattle Street, Cambridge MA (Her classes were so popular, there were waiting lists to enroll.)
Self-publishing The Joyce Chen Cook Book in 1962, an innovative, influential cookbook that was rejected by publishers because she insisted on including colored photos of food. Eventually, this hallmark cookbook was commercially published by J.B. Lippincott Company
Expanding awareness of Chinese cuisine to a wider audience through her nationally broadcasted 1967 television show, Joyce Chen Cooks. This was the first national show that featured an Asian star. Produced by WGBH, Boston's PBS channel, this show was filmed using the set of Julia Child's, The French Chef. Joyce Chen Cooks was also broadcasted in Great Britain, Canada, and Australia (Many of the WGBH episodes may be viewed from this website.)
Being the subject of an article on her accomplishments in a 1998 issue of Beard House, The Magazine of the James Beard Foundation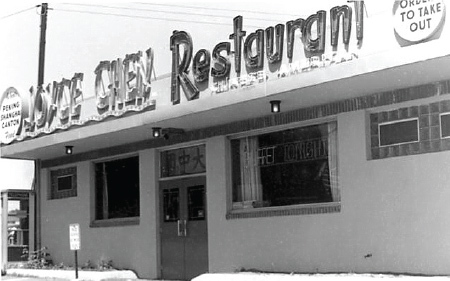 Joyce Chen Restaurants
Joyce Chen Restaurant
(1958 - 1971)
617 Concord Avenue, Cambridge MA
The Joyce Chen Small Eating Place
(1967 - 1988)
302 Massachusetts Avenue, Cambridge MA
Joyce Chen Restaurant (1969 - 1974)
A larger space at 500 Memorial Drive, Cambridge MA

Joyce Chen Restaurant (1973 - 1998)
390 Rindge Avenue near Fresh Pond, Cambridge MA