BOSTON GLOBE, NEW YORK TIMES, CHICAGO TRIBUNE,
COVER NEWS ON JOYCE CHEN
Tuesday, September 30, 2014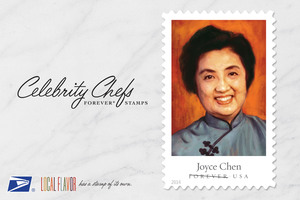 Joyce Chen has been in the news a lot. Several articles have featured her part of the Postal Service's Celebrity Chef stamp series, and the Central Square Business Associations third annual dumpling festival, which was held in Cambridge on Sunday, September 28, 2014.

Today, September 29, 2014, the Boston Globe published an article by Sarah Schweitzer, "Dumpling festival a tribute to Joyce Chen." She wrote, "In an era before Emeril, Rachael, and Wolfgang, Chen was a household name, heralded as a pioneer who popularized authentic Chinese food and a wildly successful entrepreneur who opened four restaurants, penned a cookbook, and stir fried vegetables in a wok on her PBS show, "Joyce Chen Cooks."

On September 25, 2014, Boston Magazine posted, "The Postal Service to Release Julia Child and Joyce Chen Stamps" by Christopher Hughes.

The Boston Herald published two articles, including on September 21, 2014, by Galye Fee, "New stamps will honor Julia Child and Joyce Chen," and on September 24, 2014 by Kerry Byrne, "Postal service honors iconic Boston area chefs Julia Child and Joyce Chen.

On September 22, 2014, the Chicago Tribune published an article by Bill Daley, "Julia Child gets her own postage stamp," in which he mentioned Joyce Chen. He wrote, "... Joyce Chen, who gave Americans a taste of authentic Chiness food through her famed restaurant and cooking show..."

On September 16, 2014, the New York Times published an article by Florence Fabricant, "Mini-Portraits of American Chefs." This was the first time the Postal Service released the images for the stamps of Joyce Chen, Julia Child, Edna Lewis, and Felipe Rojas-Lombardi. The image of James Beard had been released.