Kosher Products
Deliciously Fruity and Full-Bodied, HFCS Free, Non-GMO Soybeans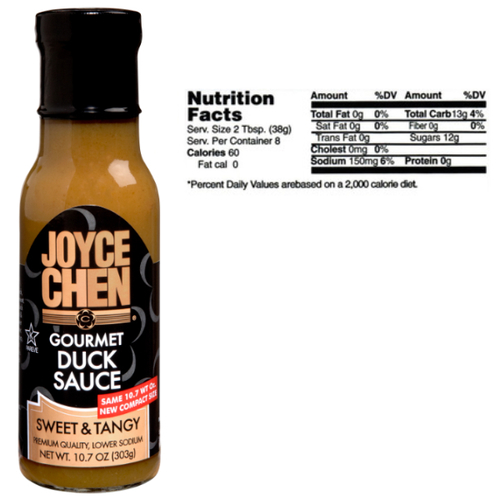 One taste and you'll be hooked.

Our extra thick and rich all purpose glaze and dipping sauce is make by blending the finest, plump apricots and apples with naturally brewed cider vinegar to create a delicious. Unlike some of our competitors, our duck sauce is not watered down, and does not contain high fructose corn syrup (HFCS). Delightfully piquant, Joyce Chen Duck Sauce may be used as a roasting glaze, or as a great tasting condiment on chicken, egg rolls, fried shrimp, seafood, and a variety of other foods. It has no preservatives, no added MSG, and made with non-GMO soybeans. Joyce Chen Duck Sauce is certified Kosher by Star K.

NET WT. 10.7 oz (303g)

Ingredients: Water, Sugar, Cider Vinegar, Dried Apricots, Apple, Soy Sauce (Water, Non-GMO Soy Beans, Wheat, Salt), Molasses, Canola Oil, Xanthan Gum, Spices, Salt

Product of USA
Apricots from Turkey or California

Contains: SOY, WHEAT

Refrigerate after opening.