Kosher Products
Not Blended Like Some Other Brands
Expeller Pressed, Naturally Gluten Free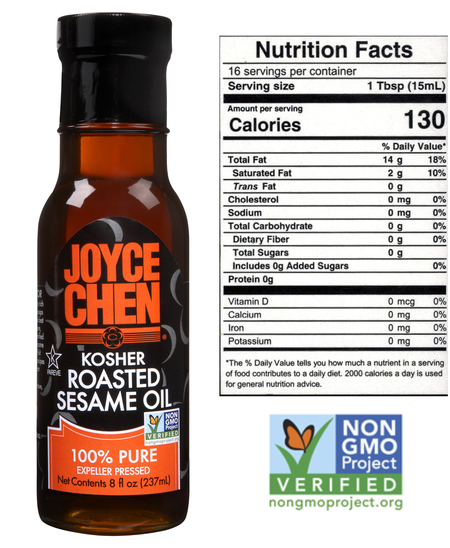 Add a rich and nutty last minute* finishing touch to your new recipes, favorite dishes, soups, salad dressings, and marinades with Joyce Chen Sesame Oil. Unlike other brands that dilute their products, our expeller pressed sesame oil is 100% pure. Our popular sesame oil is certified Kosher by Star-K.
For a delicious restaurant-style dipping sauce, add a dash of Joyce Chen Sesame Oil to our Joyce Chen Mild or Spicy Dipping Sauce, along with scallions or cilantro.
*Due to its low burning point, sesame oil should not be used in deep frying or high temperature cooking.
8 fl oz (237ml)
Ingredients:
100% Pure Expeller Pressed Unrefined Roasted Sesame Oil
Product of Mexico
Contains:
SESAME