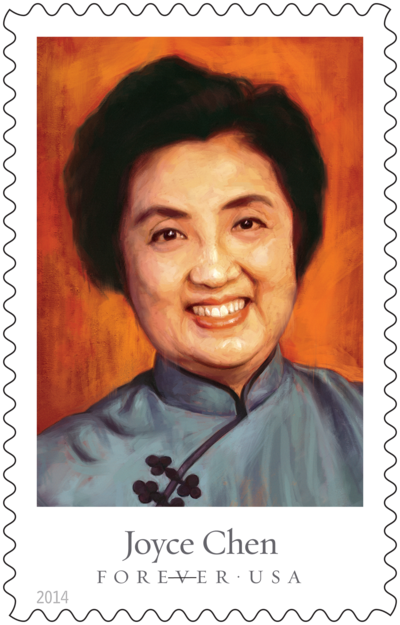 CHEF. RESTAURATEUR. ENTREPRENEUR.
by Stephen Chen, president of Joyce Chen Foods
It is with immense pride that I share with you the news that Postal Service has honored the legacy of my mother, Joyce Chen, by including her in its Celebrity Chef Forever stamp series. Released on September 26, 2014, this series commemorates five chefs who revolutionized cuisine in the United States — Joyce Chen, Julia Child, James Beard, Edna Lewis, and Felipe Rojas-Lombari.
According to the USPS, "Joyce Chen is one of America's greatest popularizers of Chinese food. From her landmark restaurant in the Boston area to her cookbooks and trailblazing PBS television show, Chen invited newcomers to sample unfamiliar dishes in ways that firmly established Chinese cuisine in the United States."

The stamps were unveiled at an event in Chicago on September 26, 2014. Cambridge MA's mayor David Maher, and postmaster Katherine Lydon held another reception to honor Cantabrigians* Joyce Chen and Julia Child on October 29, 2014.

I am thankful to the New-York Historical Society, which has included my mother in its exhibit (September 26, 2014 to April 19, 2015), "Chinese Americans: Exclusion/Inclusion."